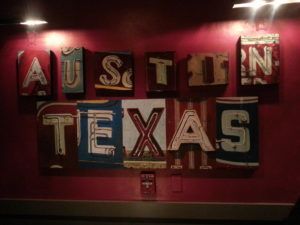 High-Level Networking and Top-Flight Music in the Same Night? Austin Blues Revue!
Austin is a highly entrepreneurial city, with a Tech sector that gets more impressive with every year that passes. Business is great here. If you're one of the many, many, many (did I say Many?) people who've moved here in the last 5 to 10 years, it was probably one of the reasons you made Austin your choice.
Austin is also "The Live Music Capital of The World", and we really enjoy that title. But there is a dirty little secret in the Austin music scene: the venues don't do that well, and the musicians do even worse. With many great musicians making less than fast-food level wages, the situation cries out to be addressed. Enter Pete Monfre.
Meet Pete, Producer of Awesome
I met Pete several years ago through a couple of very close friends, and was immediately impressed by his down-to-earth nature coupled with the passion he carries into every project he executes. When I heard that he was working to put together a recurring event that both introduced a novel networking concept to the Austin business community, while simultaneously involving top-level music talent to provide a great listening experience (and paying the musicians fairly), I had to know more. I interviewed him here:
Tell us a little about Pete Monfre and what you're all about.
"I'm a marketing strategist, writer, producer and creative director for growing companies. I've also had the unique experience of performing with several Grammy Award winning blues artists and as bandleader/guitarist for my own successful groups for over 28 years. I'm all about creating, communicating and delivering value.
What is the Austin Blues Revue?
"The Austin Blues Revue is a grand experiment in delivering value to a diverse audience of business people, musicians, venues and corporations. It exists to prove that music economies can be sustainable if all stakeholders receive real value.
"The Revue is a quarterly series of unique business social networking events that delivers a distinctly Austin experience. Featuring C-Level networking, food and drink, all included in one ticket price, the social event is followed by an exclusive performance from Austin's preeminent American roots artists."
What was the genesis of the idea?
"The idea became fully formed for me when I read the City of Austin's Music Census report showing that Austin (music?) generates $2.5 billion for the city's economy. However, very little of this money trickles down to the people who make it possible – the musicians and the venues. The report showed that, on average, our professional musicians make less than fast food wages, and our venues do only slightly better in terms of profitability.
"The Austin Blues Revue is my way of reengineering the live music model so everybody wins. Musicians are paid fairly, venues increase profitability and brands outside the music industry gain a promotional platform. Most importantly, attendees make great business contacts and enjoy an exclusive performance by Austin artists."
Who are the musicians involved?
"One of the more exciting aspects of the Revue is that it consists of a pool of national and international touring musicians that call Austin "home". Each quarterly event rotates these players into unique ensembles of 7-9 members. On this foundation, we welcome some of Austin's widely known artists in a special, one-night-only set of blues and jazz favorites.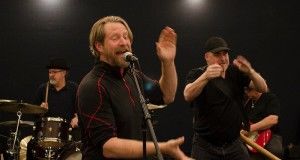 "For January's event, we're putting together Guy Forsyth with the Texas Horns in a suit and tie musical throw down. I'm the host for the evening and will provide some guitar work for the show.
"Here's a list of some of the outstanding talent we have for our attendees:
Mark Epstein – bass – producer of the ABR

Dan Walton – piano

Mark Hayes on drums

George Rarey on Guitar
The Texas Horns (here's a Track off their album "Blues Gotta Hold Me")
Why is the "musicians getting paid" angle so important?
"It's important if Austin wants to keep shoveling cash into it's Live Music Capital of the World economy. When artists can't make a living in a city – they don't play there. When venues don't make a profit, they close. Thus, we lose our two primary music assets as a city. My message is that it's not necessary. Austin can innovate in this area by changing the live music model.
"Our professional musicians work their asses off. Most people have no idea of the sheer labor that goes into performing. They deserve a paycheck. Unfortunatetly in Austin, where the expectation level of live music is very high, there also happens to be somewhat of an understanding that "I can walk into just about any bar in town and hear amazing music for free!". on one hand, thats great, but on the other, it stinks for the musicians. Mos people don't realize that they are playing for tips most of the time, and there can be an assumption that the bar is paying them, which lowers the probability that customers will tip. It's a vicious cycle, and these fine Austin musicians are the ones who suffer.
"We hope to use this event to both showcase some of this town's finest talent, while also underscoring the importance of paying a professional, regardless of the field of profession."
Here's the pertinent info for the event:
Where: Google Fiber Space (201 Colorado St., Austin Tx) Click for map
When: Monday January 25, 2016
5pm – 7:15pm – Dinner, open bar and business social
7:15pm – 8:30pm – The Austin Blues Revue*
The Austin Blues Revue is on January 25, and you can contact Pete here ((((insert contact link or correct to what Pete wants)))) to see if there are any tickets left. I happen to know a couple of these guys, and I can tell you, it's going to be a great show!
Steve Harper
will be running the networking portion of the evening, using his popular networking system called "The Ripple" (it's kinda famous). The networking happens first, then the music.
Price of the ticket includes great Texas BBQ from (((find name))) along with an open bar.